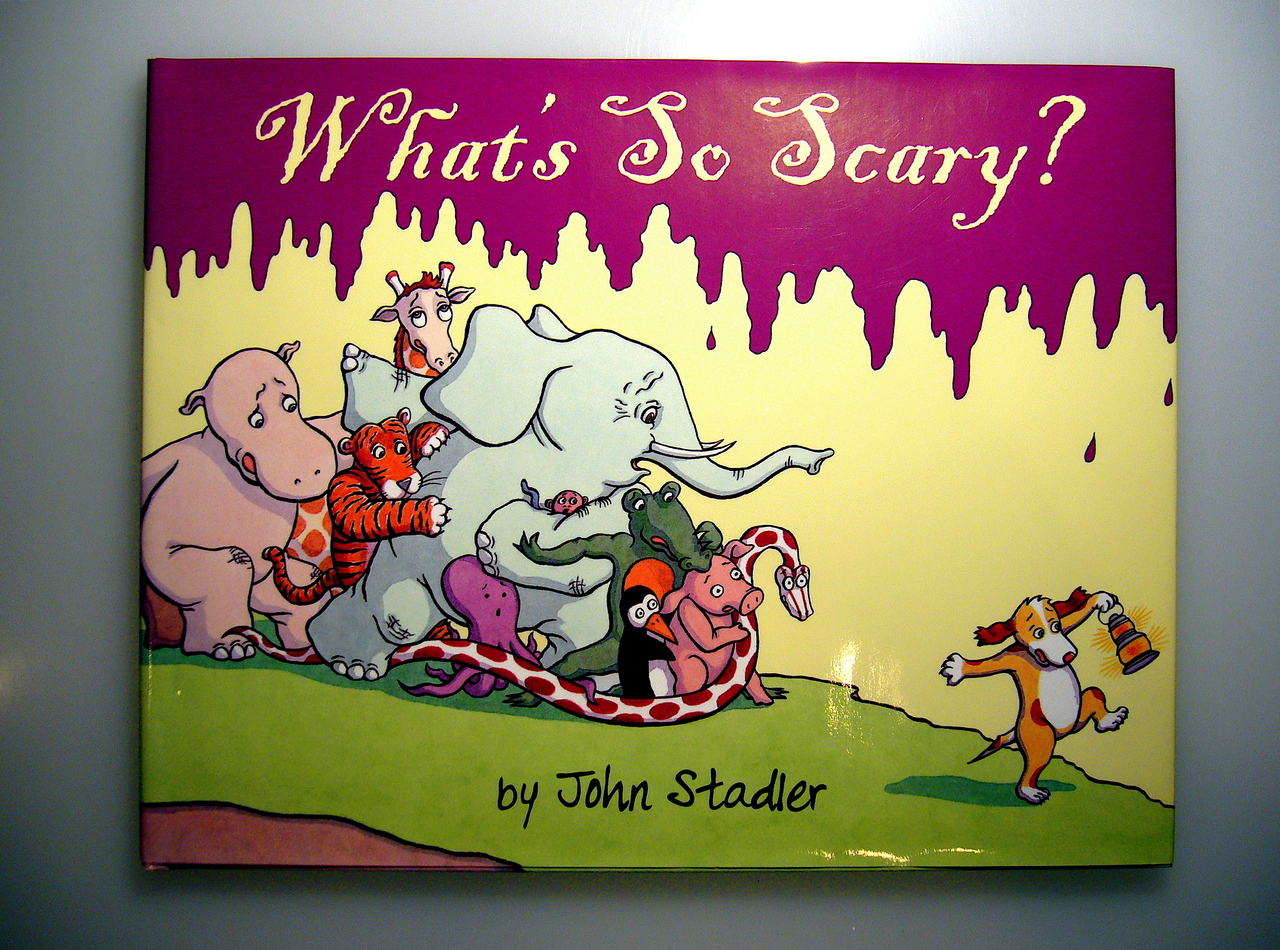 This book was so much fun to do. I am grateful to my editor on this title, Ana Cerro, for the freedom she gave me to go all out.
WHAT'S SO SCARY? is listed as for ages 5 to 9 years old. But to me, this book is most definitely for ALL ages! When I was growing up, I adored the Warner Bros. cartoons (Bugs Bunny, Daffy Duck, Elmer Fudd etc.). When I was little, I enjoyed the broad humor and action. As I grew older, I got into the more subtle asides and quips. To this day, those cartoons are at the top of my list of any of the great creations.
WHAT'S SO SCARY? is my attempt to layer the humor in a similar way, so that kids and adults of all ages can enjoy it for many a year.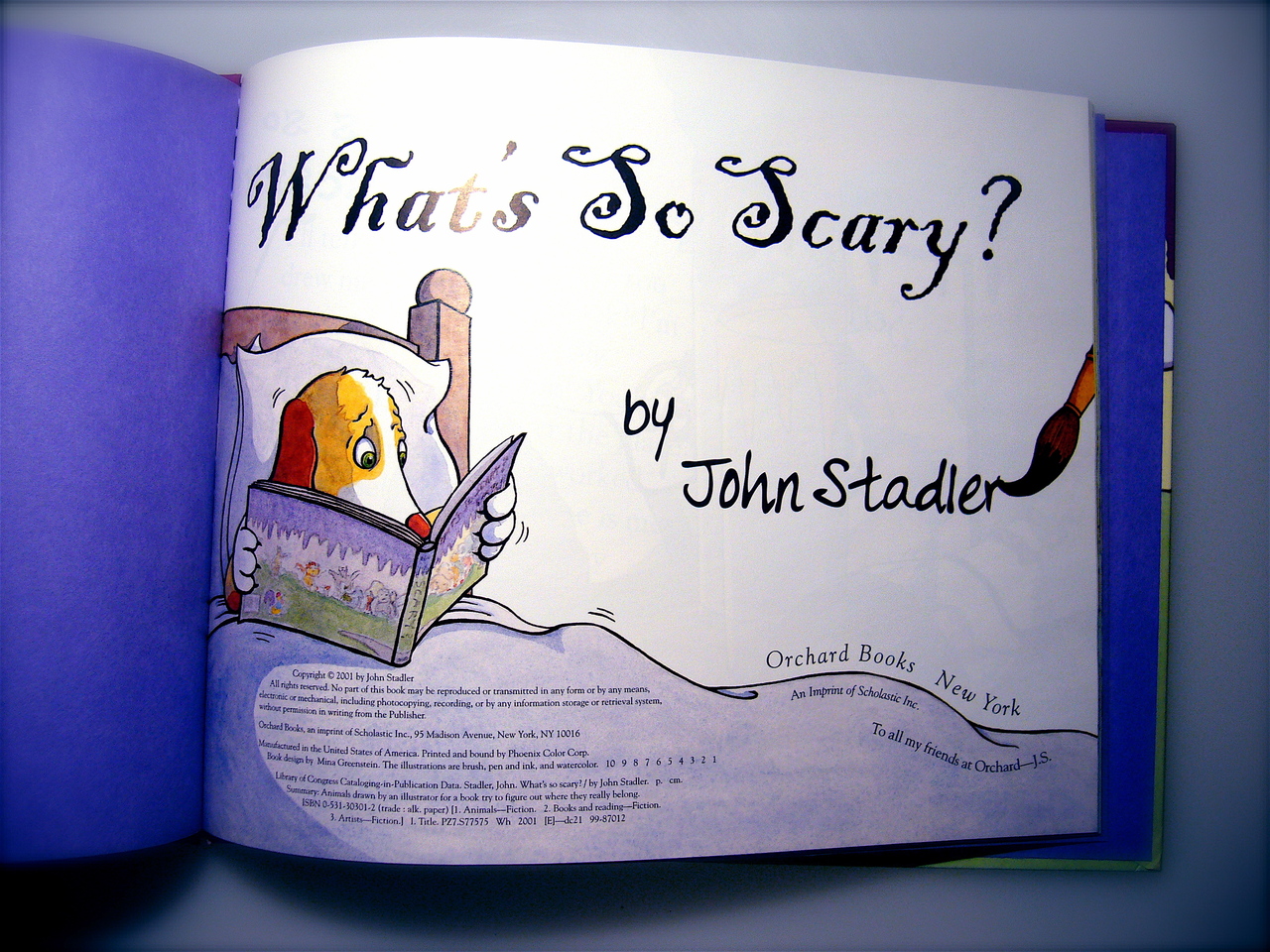 "Stadler's cartoonishly drawn characters escape both disaster and authorial control in this freewheeling romp. After newly drawn Dog complains that he's not only alone on his birthday, but in the wrong story (a stiff letter of complaint from the publisher is visible nearby- "This is not the book we agreed on!") the obliging author creates a confused herd of companions, then upsets the paint cans, sending all scrambling just ahead of a polychrome tsunami. A series of cliffhangers ensues, as the fugitives stampede over land and water, uttering comments like, "Is this If You Give A Moose A Muffin? I'm here for an audition," "If we're really animals, how come we can talk?," and "Who dresses that guy?" while the Author, or at least his bottom half, is seen struggling along in pursuit. Reaching "The End" (of the scenery, that is), Dog at last takes matters into his own paws, grabbing a brush and painting himself and his buddies into an oversized bed so that they can snuggle down for the sleepover they're supposed to be having. Readers who laughed at the contrary fairy-tale characters in Allen Ahlberg's "Bravest Bear Ever" (2000) will be mightily amused by this too."
*Kirkus Reviews*

"The text is infused with funny one-liners, sight gags, and wordplay...The brightly colored illustrations make use of perspective in an imaginative and amusing way. The story itself is offbeat and clever...visually sophisticated youngsters will appreciate the unusual premise."
*Booklist*

"What's So Scary? is funny as well as scary. It's an adventure- in words and pictures. The closer you look, the more adventure you find. It's sort of about how books are created... "What's So Scary? is definitely an unusual, suspense-filled race to "The End".
*Concord Monitor*

"The power of one harried illustrator threatens to doom a dog's birthday in this imaginative picture book from John Stadler...The cartoonish characters, creative plot, and behind-the-scenes look at the art of illustration will amuse and entertain young readers."
*From Our Editors
The Barnes & Noble Review*