ONE SEAL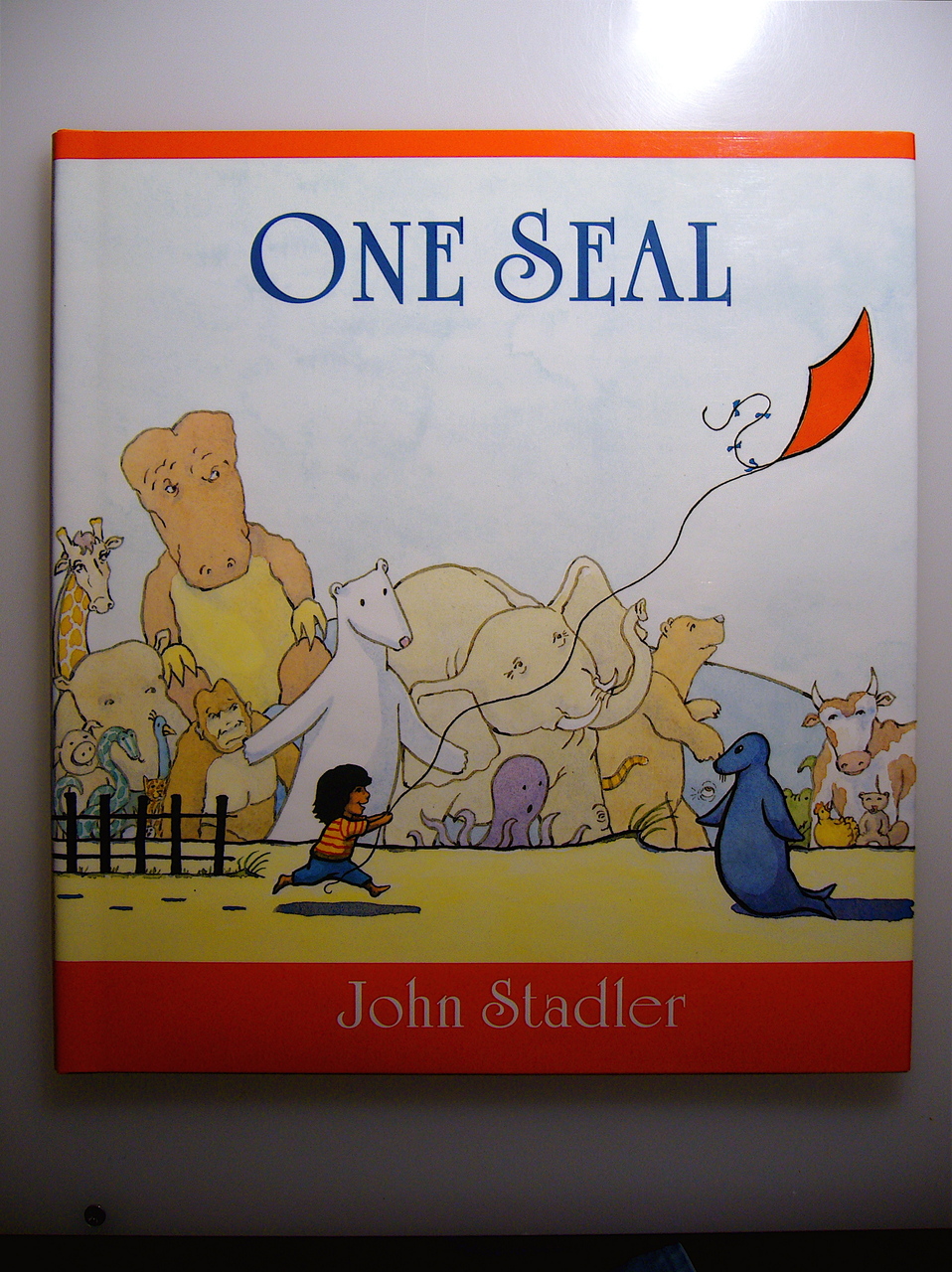 I had begun an intensive study of Tai Chi during the period when this book was developing, and it impacted the visual style greatly. (In fact, in one of the pictures, the polar bear balanced directly on the seal is transitioning into "Single Whip" from the form).
Also, I was reading some wonderful poetry at the time, and came across one of my all time favorites by Ryokan. Here's an excerpt (translation; Stephen Mitchell):

What can ever be lost? What can ever be attained?
If we attain something, it was there from the beginning of time.
If we lose something, it is hiding somewhere near us.

After reading that, I found ONE SEAL.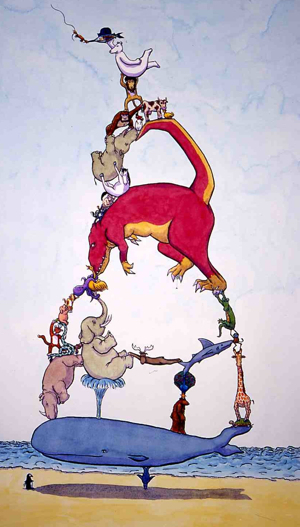 *A CHILDREN'S BOOK-OF-THE-MONTH CLUB MAIN SELECTION
*A BOOKSENSE 76 SELECTION


"Chasing after his kite, which has been liberated by the wind, a small boy spies a solitary seal, the first in an extraordinary assortment of animals. Across the continents and in from the sea, the menagerie of beasts are widely diverse, ranging from the tiniest snail to the largest whale, with a dinosaur and peacock among them. These animals then begin a series of awe-inspiring balancing acts, building a towering, living pyramid as they strive to reach the boy's kite. Through several wordless pages, onlookers can explore the fanciful world of Stadler's imagination as he arranges the creatures in a capricious combination of poses. A surprising last twist reveals the lone boy once again scurrying after his fleeing kite and leaves ample room for speculation as to what glorious event will occur next."
*Kirkus Reviews*

"With smart timing and visual punch, this not-quite-wordless book sets a small boy down on a deserted beach and asks: What next?"
(Rating) A
*Parenting Magazine*

"...the watercolor illustrations of the beach create a lovely sense of an expanse of sand topped by an expanse of sky, the perfect stage for animal acrobatics."
*School Library Journal*

"I love this book! The quirky illustrations and humorous storyline makes this book my top pick for the fall. As I share this book with children in storytime, they, too, have fallen for the books charms. It will spark laughter, creativity, and questions- which to me is the sign of a truly fabulous children's book."
*Booksense 76 Selection*

"The pictures are hilarious... Stadler makes me laugh out loud."
*The Concord Monitor*

"The simple illustrations are full of humor and the reader whose imagination soars as high as the red kite will enjoy the antics and the acrobatics of the animals. A paean to cooperation."
*Children's Literature*