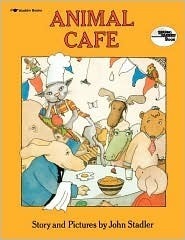 My first real picture book was published in 1980 by the original, wonderful people at Bradbury Press. In those days, Bradbury was primarily Bob Verrone and Dick Jackson in a building in Scarsdale, New York.
My portfolio case was a cardboard box which contained my book dummies. I showed Bob ANIMAL CAFE and HECTOR, THE ACCORDION-NOSED DOG and soon had a four-book deal.
ANIMAL CAFE got a good break when it was selected as a Reading Rainbow Feature Book on the PBS television show with LeVar Burton. The great Martin Short did the reading.
2010 marked 30 continuous years in print!
*A READING RAINBOW FEATURE BOOK
*LEAGUE OF NEW HAMPSHIRE CRAFTSMEN life-size children's museum exhibit, as seen on New Hampshire Public Television


"The pictures feature thin lines and thin, earthy washes. There are lots of witty details and the kind of strong facial expressions that keep both children and adults happy."
*Booklist*

"...genuinely outrageous, bizarre and very funny."
*School Library Journal*

"Animal Cafe is funny, charming and nicely illustrated."
*Children's Book Review Service*